Send immediate requests to the field, generate ticket tracking numbers and create aging-reports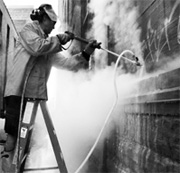 to see how fast your team or outside agencies are closing the loop.
BOLO and Geo-Restricted Lists
Keep a mobile database of your frequent offenders or people that you have geo-restricted from your downtown. Update with photos from law enforcement BOLO (Be On the Look Out) lists of criminals or suspicious persons.
Business Database
With a listing of every business in your BID on their mobile devices, calls to base are reduced and the team is more responsive to visitors to the downtown. Your feet on the street become the conduit for keeping the business databases relevant, updating changes in the field, tracking vacant space and keeping the BackOffice in synch.
Surveys
Use your team to run quick intercept surveys. Where are our visitors coming from, do they plan to spend the night, what are their impressions of the downtown, parking, way-finding or quality of life. Many possibilities.
Online Trending Reports
Simple yet powerful, dynamically create reports and map the results on any data that the team collects. Managers can access the secure reporting system from anywhere with internet access.